The Great Data Consolidation Begins: Part 2
The Problem:
The bottom line? I've got too much data spread over 3 Windows PC's, one IBM laptop, 1 USB key, 1 SD memory card, and a Treo Smartphone- all of which I work on to some capacity any given day of the week.
The Goal:
Collect all of the data including Favorites, documents, photos, MP3's, etc. and store them on one home PC. Backup all of the data daily and move the most important stuff online where it can be accessible from any computer and my Treo when I need it.
The Hardware Tools: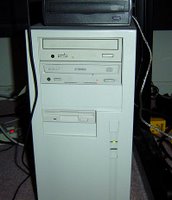 Newly reformatted Windows XP PC. Recently upgraded with 512mb of memory and an external CDR-RW drive.

A Western Digital 160 gigabyte USB 2.0 drive for backuping up my files that is replacing the 40 gigabyte Buslink I have now (pictured).
An ultra portable IBM x41 IBM ThinkPad with DVD/CDRW, wireless, SD and USB card access. To be used while on the go or traveling.
1gb and 256mb SD cards for temporarily storing MP3's, documents, and other data coupled with a Lexar all-in-one Memory Stick and SD card reader for PC access.
A Sprint Treo 650 Smartphone with unlimited data access, Bluetooth, SD card slot, portable Palm keyboard, extra battery, and a GPS receiver. It looks pretty geeky when it's all put together but it's worth it!

I hope the final result will be easier access to my files no matter where I am. I'll be deleting files I no longer need and protecting stuff I want to keep.